One of the biggest barriers to entry for bikepacking for many people is cost (bikes, bags, gear, etc). I've been trying to help more friends get into the sport, and as part of that, collecting lists of budget options.
Obviously, the best bike is one you already have or can find used, but given the bike market these days, it's nice to have easy in-stock options as well.
Here's a few tips to get you started.
How much should you spend?
If you're brand new to biking, it's common to think a bike will cost, like, $300. And while you can sometimes find a used bike for that much or less, you won't find anything respectable around that price brand new—especially not something that's off-road capable.
Most flat bar bikes from a bike shop with reasonable performance start at $600. $750 will get you nicer components, and $1,000 will buy you a lightweight, high-performing machine, typically with hydraulic brakes (easy to squeeze), an air-spring suspension fork (lighter and more adjustable), and a nice gearing package or "groupset" (for smoother shifting).
Of course, you can easily spend more, and many people online will insist you must, but there's large diminishing marginal returns beyond $1,000 for flat bar bikes. The trickle-down effect over the years from high-end components to low-end components means budget bikes perform quite well these days. In particular, the introduction of MicroShift components to the market has resulted in much higher performance on budget bikes.
Also, if it helps, think about a bike's cost prorated over 5-10 years. Over 10 years, an $800 bike becomes $80/year, or just $6.67/month—a small investment for something that will bring you immense feelings of freedom and joy, while also saving on gas.
Know your needs
Buying a bike isn't the biggest decision you'll make in life, but it still helps to know your needs and what you're willing to compromise on.
As any good therapist will tell you, you ultimately know the answer—I'm just here to help ask the right questions (and give you some ideas) on how to get there. 🙃
What kind of riding will you do?
Do you want a bike for mainly road riding, with occasional dirt road or smooth forest path riding? If yes, consider a gravel or all-road bike with clearance for at least 38mm tires.
Do you want a bike that handles any type of terrain, including bumpy singletrack, while being a little bit slower on pavement? Consider a mountain bike with clearance for at least 2.3" tires.
Tip: it's much easier to make a mountain bike more pavement & commuting-friendly than it is to make a gravel or road bike more off-road friendly.
Why? Well, tire clearance is the biggest determining factor in how versatile a bike is. Modern gravel bikes often max out around 45-50mm (1.7-2.0"), while even a budget Walmart mountain bike will offer clearance for at least 2.4" tires.
After your fitness, rolling resistance (i.e. tires) are the biggest factor in how fast you'll go, and they're thankfully easy enough to swap at home in 20 minutes, or for a very low cost at bike shops. On a bike with good tire clearance, you can easily swap from a 2.4" tire with big tread for dirt, to a 2.1" fast-rolling tire with smoother tread for pavement riding.
Believe it or not, certain 2.2" mountain bike tires are even faster on pavement than dedicated road or gravel tires.
💡
Despite everything you've ever heard or thought about bike tires, smaller tires are not usually faster. Smaller tires can feel faster due to all the vibration they pass along, but in most cases, a larger tire will actually be faster, as it reduces impacts on your body and absorbs bumps on the road and trail. I'll dive deeper on this another time, but for now, know you don't need to pick speed OR comfort—you can have both!
What to look for
Our recommended criteria for a great dirt-friendly bikepacking bike include:
Tire clearance for at least 700x40mm tires, ideally 29 x 2.3"+ for max versatility
Low gearing of at least a 11-36t cassette on a 2x chainring bike, or 11-46t on a 1x chainring bike
Disc brakes, ideally hydraulic
💡
Is this all jargon to you? No worries—here's a quick explainer.

Tire size
Tire sizes are measured in diameter and width. Most bikes these days come with either 27.5" (aka 650b) or 29" (aka 700c) diameter wheels. 29" is better for most riders, as bigger wheels roll over obstacles better. If you're vertically-challenged (say, 5'4" or under), 27.5" wheels may be more manageable and maneuverable. Width is how wide the tire is if you're looking at it straight-on. There's no benefit to tires smaller than 2.2" if you're riding on dirt.

Gearing
Gearing is how easy or hard it is to pedal. Without going into gear inches and all sorts of advanced calculations, know that the smaller your front chainring is and the bigger your back cassette is, the easier it'll be to ride up hills. If you live in a flat area, this is less important.

Number of gears (or "number of speeds") is a common stat for bikes, but surprisingly isn't that important unless you're an advanced rider looking to optimize your cadence at a given speed.

Gear range (or "gear ratio") is much more significant, especially for bikepacking, when you'll encounter many types of surfaces and elevation changes. You want as big a range as possible, which can be accomplished with a large cassette (e.g. a 10-51 tooth [literally the metal tooths on each cog, where the lower number is harder and the big number is easier]), multiple chainrings on the front, or both.

1x refers to one chainring on the front of the bike. It's quickly become the standard for mountain bikes and even many gravel bikes, as it's simpler, lighter, and sufficient for off-road riding where you typically go slower than road riding.

2x or 3x refers to, yep, two or three chainrings on the front of a bike. While less in vogue these days for non-road bikes, a 2x setup is a great option if you want to go extra fast on pavement, or to achieve a massive gear range when paired with a large cassette.

Brakes
Disc brakes are now standard on most bikes. They perform about the same as rim brakes in dry conditions, but are much better in wet conditions.

Mechanical disc brakes require you to provide all the force for braking, which can mean more tired hands on a long descent.

Hydraulic disc brakes require less hand pressure to achieve the same force as mechanical ones. How do they actually work? It's anyone's guess.
Bikes under $1,000
Finding all of this for <$1,000 is pretty hard, but here's a few options I've found.
From cheapest to most expensive: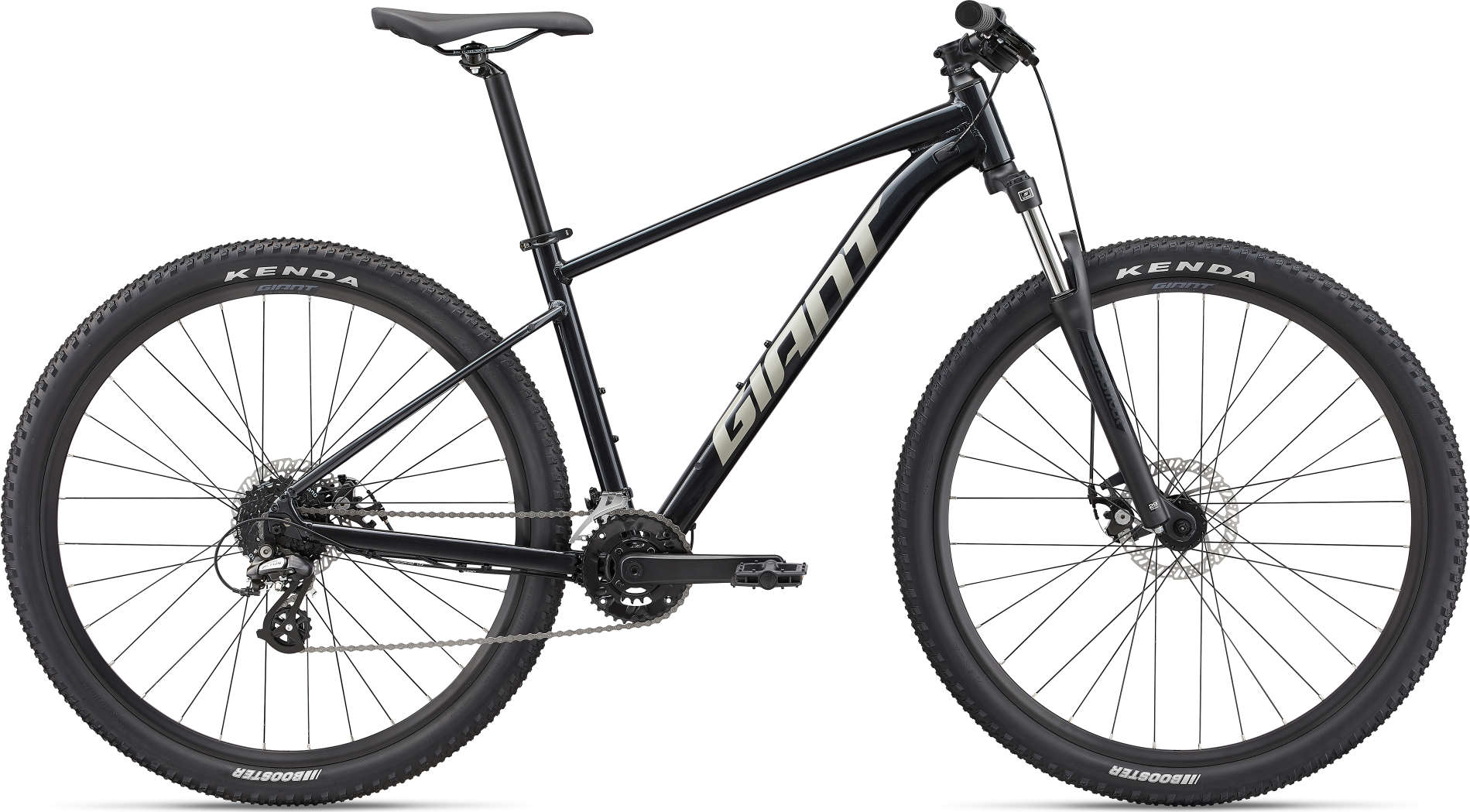 Giant Talon 4 - $600
2.4" tire clearance, 12-46t cassette, mechanical disc brakes
View on Giant Bicycles
If you're willing to spend up to $1,500, you'll have even more options, which I'll cover soon.
Bikes under $500
There's only one worthy bike in this category, and that's the $398 Kent Trouvaille available at Walmart.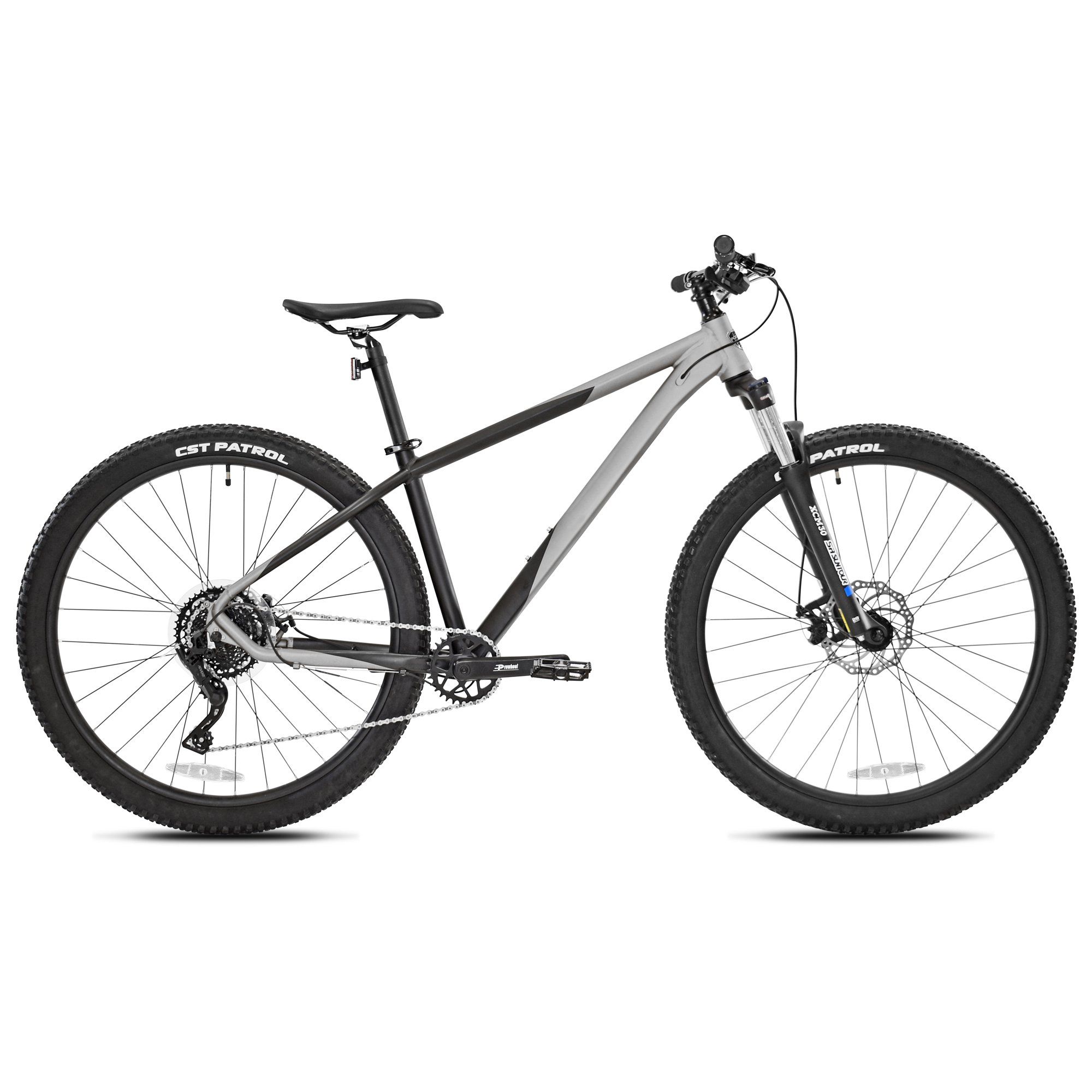 Kent Trouvaille
Featuring 29 x 2.4" tires, an 11-42t cassette with MicroShift 1x9 shifting, an entry-level Suntour XCM suspension fork, and mechanical disc brakes.
View on Walmart.com
It has 29 x 2.4" tires, an 11-42t cassette with 1x9 MicroShift shifting, an entry-level suspension fork, and mechanical disc brakes.
It's gotten a few solid reviews online. But, be warned: it's generally not setup properly from the store, there are reports of stem bolts breaking, the pedals are terrible, and it's heavier than all of the bikes above. It's also only available in one size, a medium, for people 5'6" to 6' or so.
Still, if your budget only allows for a $400 bike and you can't find a decent used one, it might be worth a look—but please, take it to a bike shop or a bike mechanic friend for a tune up before riding.
What about gravel bikes?
Gravel bikes are road bikes (i.e. they have drop bars) with slightly bigger tires and better brakes. They're great if you're going to do a lot of pavement riding, or if you want to spice up (read: make more difficult and uncomfortable) what would otherwise be easy trail riding on a mountain bike. As someone on the internet once said, "gravel biking is shitty mountain biking."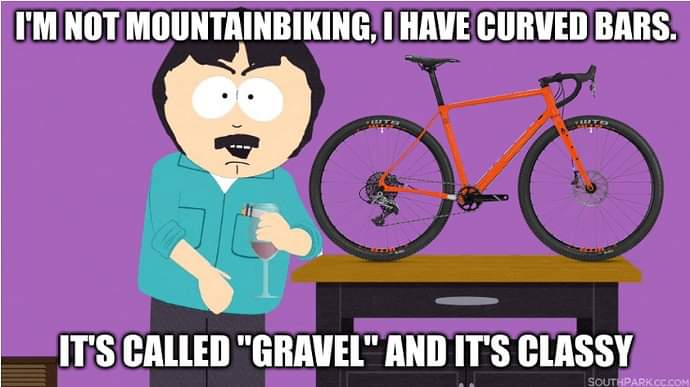 Lots of bike industry marketing will tell you gravel bikes can do it all—pavement, dirt roads, double track, and singletrack. And while that's technically true, you'll be questioning your life choices as you rattle yourself numb down a fast dirt descent.
I was a victim of the bike industry marketing myself. In the midst of the pandemic, I paid way too much for a gravel bike with drop bars, hydraulic brakes, and an 11-36t cassette—$2,000 to be exact, or literally more than a mountain bike with better components and full suspension. At first, it was amazing, coming from a road bike with 25mm tires. But then I realized how much better off-road even a $600 mountain bike was. So now, for off-road bikepacking, a gravel bike is no longer my first choice.
To be fair, I've done some great mixed surface rides on my 2021 Specialized Diverge E5 Elite gravel bike. But it's still a relatively aggressive road geometry (i.e. you're more crouched over vs. sitting upright), and the lack of suspension will leave you aching at the end of a long day of riding on dirt.
Since I now have a mountain bike, I'd only choose my gravel bike if the route is more than 60-70% pavement—and that's mainly because I don't keep pavement-friendly tires on my mountain bike. I could easily swap to e.g. 2.1" Specialized Pathfinder, 2.35" Schwalbe Thunder Burt, or 2.2" Continental Race King tires and be just about as fast on pavement as my gravel bike.
Finally, it's worth mentioning I can already keep up with friends just fine when I'm on my mountain bike and they're on gravel bikes during moderate-length pavement sections. Maybe my friends are slow, or maybe... the type of bike you ride doesn't really matter and fitness is dramatically more important than anything else? ("Both" is also a reasonable response here.)
What else you can ignore
You should know about a few things that actually aren't all that important in a bikepacking bike—but you might see other listicle-style websites talk about:
Bottle cage bolts – there's plenty of ways to mount things to your bike without bottle cage bolts (or "braze-ons"). Nice to have, but not needed.
Rack mounts – ditto above. Many bikepackers don't use racks at all, though they can be handy—especially if you plan to commute with your bike. Even if you don't have rack mounts, you can use a universal rack like Aereo that mounts to the chainstays on any bike ($120). Or a $15 seatpost rack mount.
Drop bars – related to the gravel bike rant, my hottest take on bikepacking bikes is that drop bars are overrated for non-racers. There are plenty of inexpensive ways to create additional hand positions on a flat bar (bar ends, clip on aero bars, etc)—unfortunately most people just don't know about them. Flat bars handle much better on descents and technical terrain. They can accept larger handlebar bags. And most importantly, bikes with equivalent specs, but with a flat bar instead of a drop bar, often cost half as much. Drop bars do look cool, though!
That was a lot of info, so if you have questions or want to tell me I'm an idiot, drop a comment below.