I rode around Lake Tahoe in 3 days, from October 9-11. As written, this route is best for intermediate to advanced bikepackers.
Here's everything you need to know.
What's the route like?
Expect a mix of everything: smooth flowing singletrack, challenging technical singletrack, rough two track, highway riding, and extended stretches of paved bike path.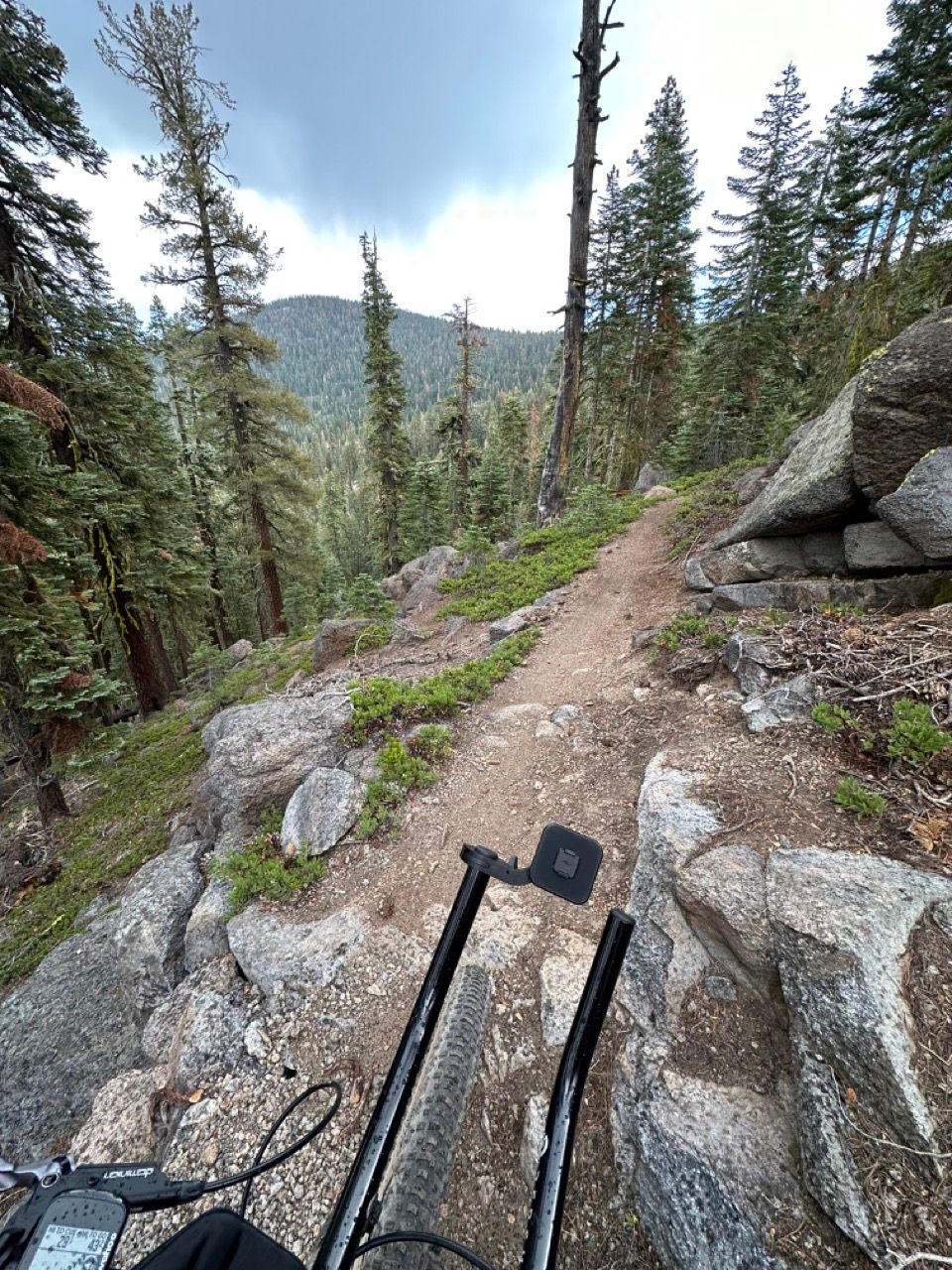 Expect to go on an emotional rollercoaster: one hour you'll be cursing your way up a heart-poundingly steep climb, while the next hour you'll reach a newfound state of awe and bliss.
What type of bike is best?
Given the often loose sandy surface and constant trail obstacles, you'll be happiest on a full-suspension bike with big (yet ideally fast-rolling) tires—preferably 2.6" or more (or at bare minimum, 2.2").
It's also perfectly rideable on a hardtail, just a bit less comfortable on some of the sketchiest descents.
It is not rideable on a gravel bike, unless your gravel bike happens to have front suspension, 2.4" tires, and very low gearing.
I rode my Priority 600x hardtail with 2.8" Teravail Coronado tires: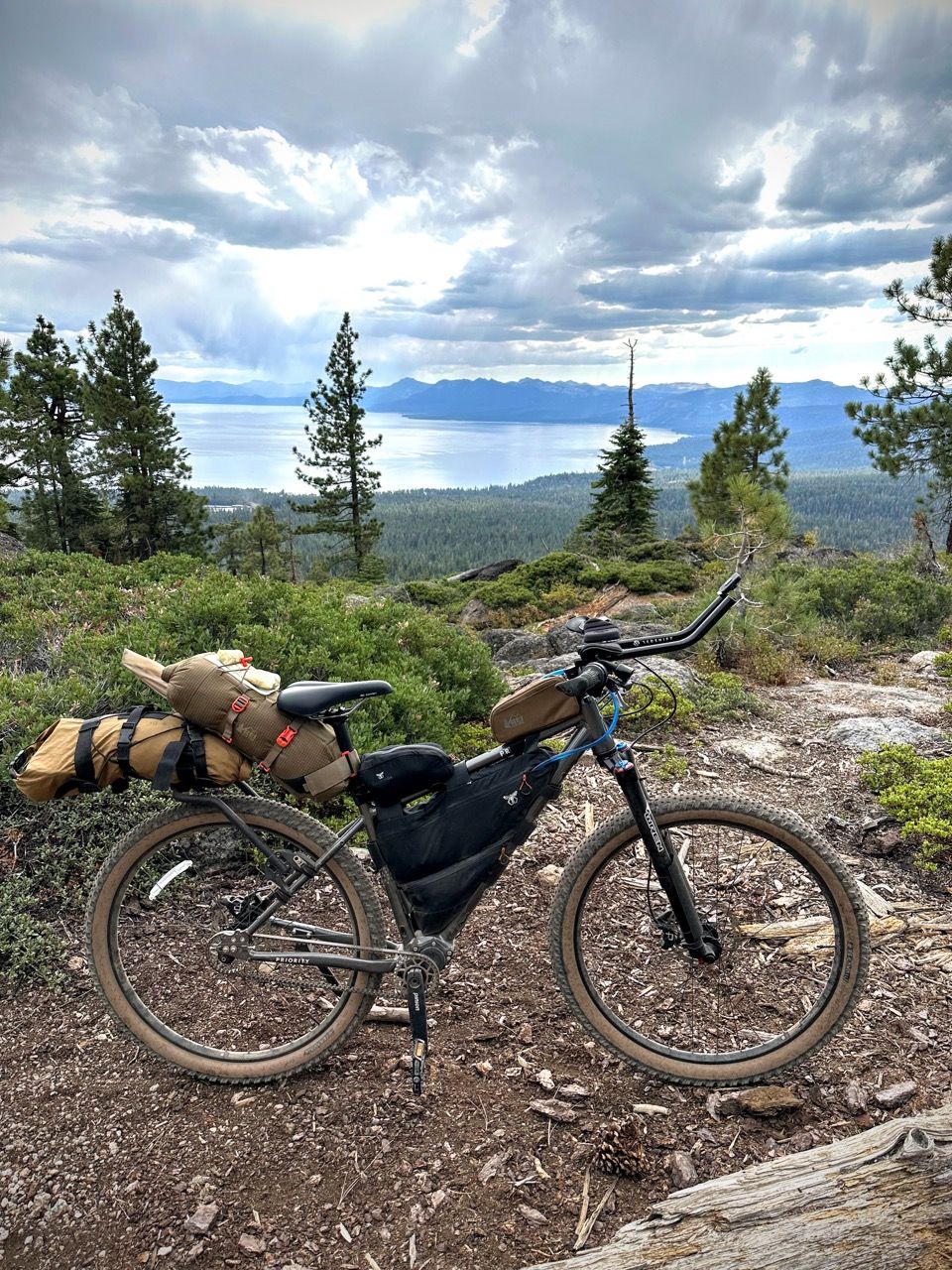 The big tires were great, but due to how punishing some of the descents were, I'd consider riding a full suspension bike next time.
Finally, I recommend adding some aero bars to your MTB for this ride. Sounds crazy, but you'll go much faster on the paved segments, which is most of the 3rd day.
Best time of year
I think October is ideal: cooler days, fewer people and bugs, and fall colors. Did you know there's beautiful golden aspen trees on the eastern side of the lake?
September would also be great, minus some fall colors.
The earliest in the year you'd want to do this is mid-June, or July if it's a heavy snowfall year. Early November is likely the very latest you'd want to do this, assuming the weather looks mild.
Regardless, plan for variable mountain weather conditions, like the occasional afternoon rain.
Food & water
If you want to follow the route as written below, without stopping in Incline Village at the end of day 1, plan to bring 2 days worth of food (2 breakfasts, 2 lunches or lots of snacks, and 2 dinners). You'll eat one of your breakfasts on day 3, but otherwise eat out at any of the many restaurant options.
If you'll stop in town at the end of day 1, then bring a lunch for day 1, breakfast for day 2 & 3, and your preferred quantity of snacks (based on how much you plan to buy along the way).
Note you'll want some sort of bear storage method if you have food overnight, as Tahoe has lots of hungry black bears (though I didn't see any, nor any evidence of bears along the route). I used an Ursack, which packed up nicely during the day. You can also hang food, or strap a bear canister to your handlebars or rack.
The Tahoe Twist route
This route is based on Bikepacking.com's Tahoe Twirl and Jonah's Tahoe Twirlio.
My two goals for this edited version were:
Making it doable in 3 days, staying close to the lake
Maximizing time spent on dirt
When I did my trip, I started at Sawtooth Trailhead in Truckee, but on this edit I've started the route from Pole Creek Trailhead off Highway 89 instead. This eliminates most of the highway riding, 500ft of climbing in the last 2 miles of the route, and makes getting to the first camp spot much more manageable (on my attempt, I didn't make it, as I ran out of daylight and was exhausted after 30 miles. Take the technical singletrack and high altitude seriously!)
Credit to Alex Brooking's even shorter alt route for the southeast portion.
If you want to do this as mapped in 3 days, read on. You'll be able to extend or shorten as desired.
Day 1 - 31 miles
You'll warm up on a short paved segment, then do a mix of singletrack, dirt road, and pavement until you reach a dispersed camping spot near the beginning of the Incline Flume Trail. Heads up: this will likely be the hardest day.
Note: I've marked multiple spots where reasonable people, after making it to highway 67, should exit the route into Incline Village to get dinner. If you do the route as mapped, prepare yourself for an adventure—including carrying your bike up and down a small ravine, and a 25% grade gravel climb. But these are the joys of being a dirt maximizer.
Day 2 - 31 miles
Start your morning with the fun, flat, and easy Incline Flume Trail, enjoyable in its own right. But it soon connects to what might be one of the best trails in the world: the Flume Trail.
It's the highlight of this day and this entire route, and will have you fall in love with biking all over again. Try to hit it at an off-peak time for less bike traffic—this route as mapped sets you up to hit it first thing in the morning.
Things stay fun as you reach Marlette Lake, climb up a moderate two-track, and then fly down an endless descent to Spooner Lake. Fill up with water here, as it's hard to come by the rest of the day.
The fun factor decreases as you start an arduous but largely non-technical climb to a major viewpoint.
And while you'd expect to make up time on the descent, it's often quite technical and punishing singletrack riding.
When you've had enough, camp off the trail near the trail intersections. (Or, if you want to extend this route by a day, start the mostly hike-a-bike climb up the Tahoe Rim Trail to Star Lake.)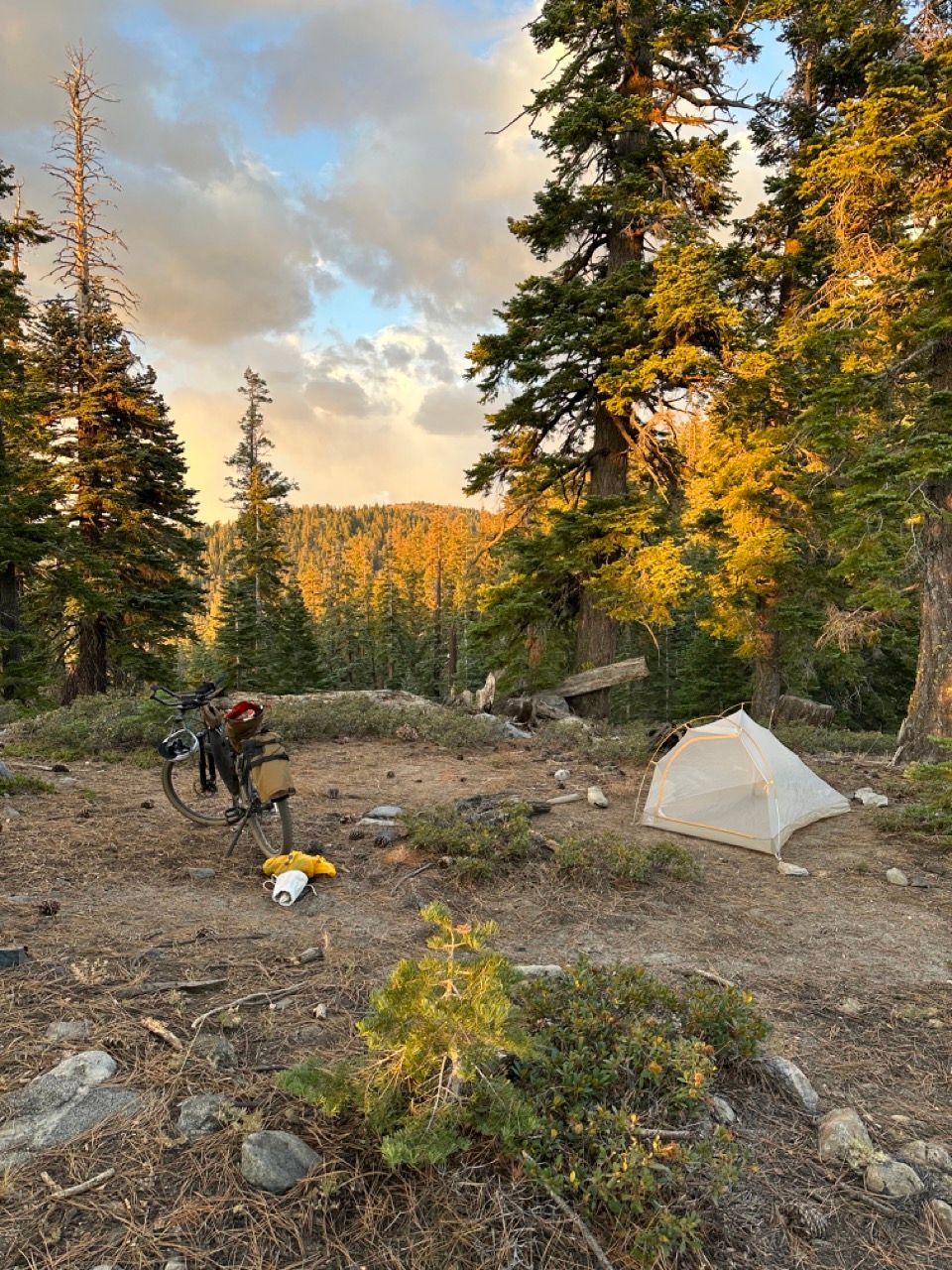 Day 3 - 55 miles
This day will start with easier singletrack (if you're up for it, otherwise bail to the road), neighborhood roads, an exposed shoulder-less climb on a two-lane highway, and lots and lots of flat paved bike path.
Expect it to take you 7-8 hours, including breaks.
After the highway ascent, there's bathrooms at the Emerald Bay viewpoint, but note the best view of the bay is when you're descending around the back side, able to look at its mouth head on.
Cars were mostly polite and typically moved over, and there's lots of "Share the road" signs, but you'll be happy when the highway riding is over.
After a fun descent, you'll eventually link up with lovely paved bike path (hurray for great bike infrastructure!) that meanders up the west side of the lake, eventually connecting up with the Truckee River bike path—another gem that's mostly downhill and an excellent way to finish the ride.
Misc notes
I left other campsites on the map in case you want to adjust the route to your liking.
I marked water sources that were available when I rode this in mid-October.
I highly recommend loading the route onto a bike computer for navigation purposes. Some of the turn offs on day 1 are not easy to see on the trail. Day 3 also has a fair number of turns.
How to get there
You can take the Amtrak train if you're coming from the Bay Area, Sacramento, or another stop on the way to Chicago. Note the train cars officially require tires 2.0" or smaller (I haven't tested this) on the front, so you may need to bring an extra tire for transporting.
If you have a bike box, you can take the Greyhound bus with your bike underneath.
If you have a car, it takes about 3 hours from SF.
Drop a comment below if you have a question. Otherwise, enjoy, be safe, and have fun!