I spent a lot of time researching two person backpacking and bikepacking tents. In the end, it was basically impossible to beat the Big Agnes Fly Creek UL2.
Did all the online research pay off? Thankfully, yes—I've been really happy with mine after a handful of bikepacking trips, including my White Rim ride.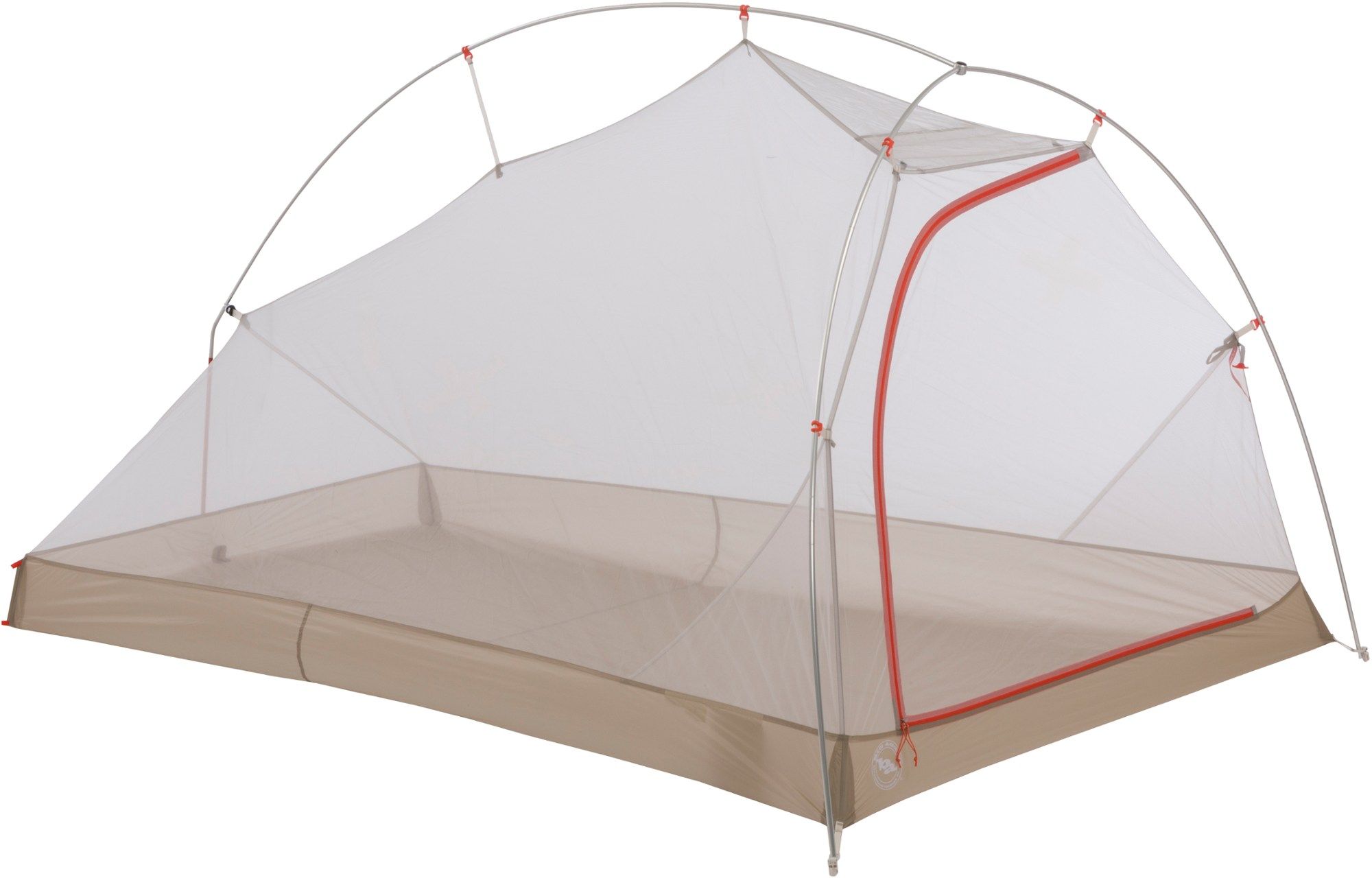 Big Agnes Fly Creek UL2
Search on Google
I couldn't find another tent at its incredible weight (2lbs), with solid features, at a reasonable price ($369, $333 after REI member discount).
Good value
It really represents the sweet spot. And if you're interested in bikepacking or backpacking, having an amazing tent is well worth the cost (if you can afford it)—especially when you consider two nights in a tent like this is equivalent to two nights in a hotel room. Or, over 10 years, it averages out to just $3 per month.
Ways to go lighter
Going to a single-wall design like the Flash, but this introduces condensation issues.
Using your trekking poles as tent poles, but I often don't use trekking poles and wanted to take this tent bikepacking.
Get a tent from a small boutique manufacturer, but these can be hard to find and usually similar price & weight after you add poles.
Use a bivy, but these are not comfortable, not built for two, have condensation issues, and are ultimately not that much lighter (you might save 1lb).
Surprisingly, REI's own-brand competitor tent, the Quarter Dome SL 2, is 10oz heavier and more expensive than the Fly Creek. I don't know why anyone would choose it over this one.
Anyway, this Fly Creek tent is spacious, easy to set up (stake the corners first before doing the poles!), super packable, and ridiculously light. And while not cheap, it's more affordable than other options in the ultralight category. It's spacious for one person, and decent for two—which is about what you can expect from an UL backpacking tent.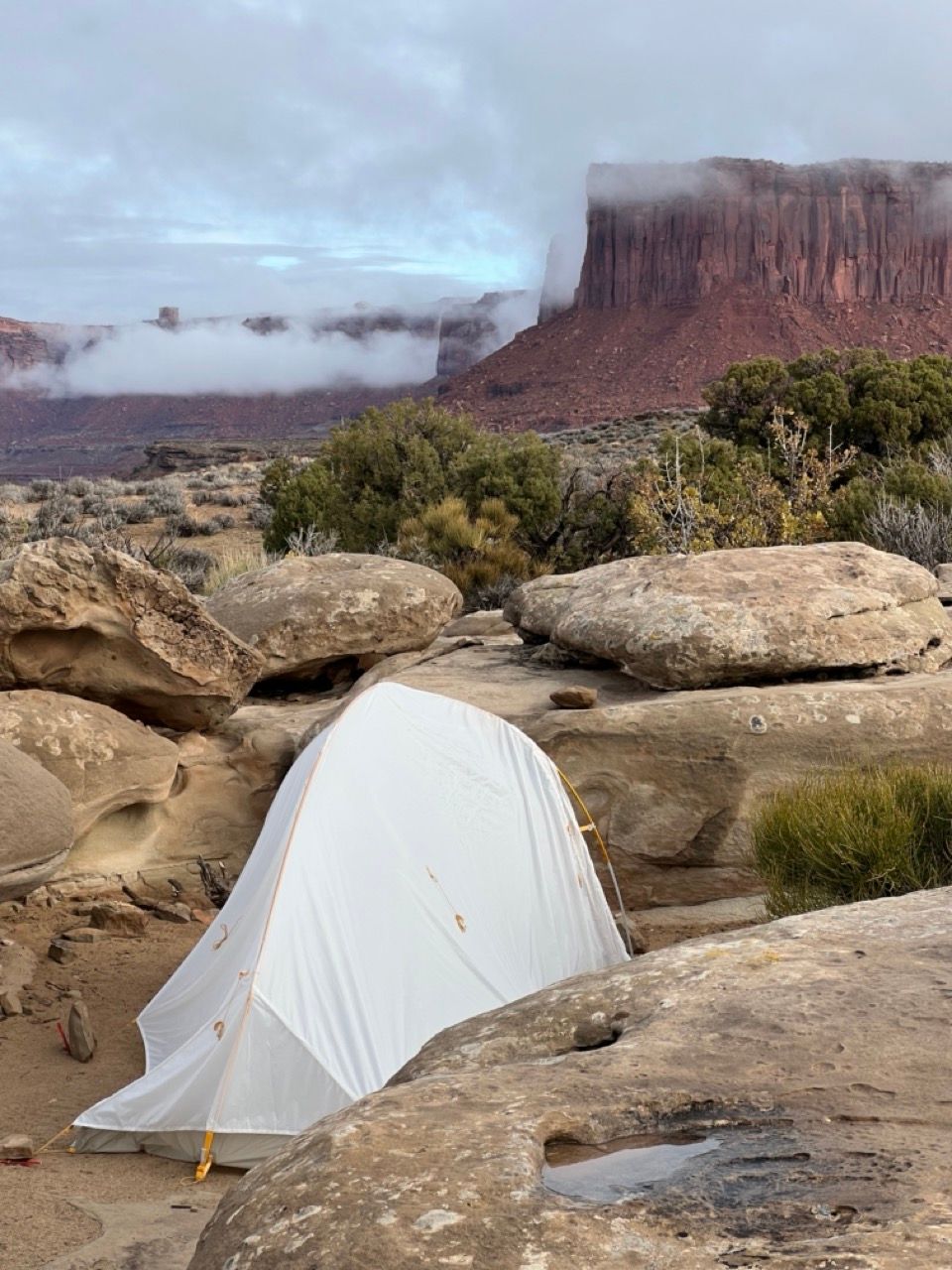 On our two-person Exped SynMat HL Duo sleeping pad in MW size, my partner and I didn't feel cramped and had plenty of space between our heads and the door to stash clothing and accessories.
Trade-offs to be aware of
If you ditched the rain fly for a dry weather trip, the all-net interior tent wouldn't give you much privacy. Older models had translucent material up halfway. There's probably a reason for the all-net (cost and/or weight savings), and it's fine when you use the rain fly, but takes this down a small notch in versatility.
If you aren't able to stake the end corners (e.g. camping on rock), the tent will be a lot less taut and spacious. But usually, if this is the case, there are rocks around you can place on the guylines to do the same thing as stakes (I did this one night in Utah). You can save yourself the trouble by going up to the freestanding Copper Spur, but that adds a fair amount of weight and a ton of cost.
The footprint is sold separately for an exorbitant fee. You can cut your own using window insulation film (aka polycro) or use Tyvek.
As for Big Agnes' bikepacking-specific tents, I haven't actually found the shorter pole segments necessary, since my poles provide structure on the bottom of my REI seatpack.
Budget alternatives
While I think this is a great value, not everyone can afford it. I'll share budget alternatives soon, so subscribe now!